Vendetta Song
The story of Guzide
In her lastest film, Eylem Kaftan recounts the story of one of the biggest social wounds in Turkey.

— Omer Ozen, Bizim Anadolu
Eylem Kaftan gazes from her hotel window down over the bustling streets of Istanbul. She is preparing for a 1,400 kilometer journey into the heartland of her Kurdish ancestry. Armed with only a few contacts, a faded family photograph and a passionate urge to discover the truth, the Montreal filmmaker will travel deep into eastern Turkey to attempt to unravel the 30-year-old mystery of her aunt Guzide's murder.
Vendetta Song is the story of her incredible journey — a riveting account of a senseless vendetta killing, the antiquated customs that brought it about and one woman's search for connection and closure in an ancient culture she's never known.
Working against time, political instability and facing possible retribution for her investigation, Eylem follows a series of word-of-mouth clues, venturing from village to village as she pieces together Guzide's final days and closes in on the identity of her killer. Amazingly, Vendetta Song brings Eylem face to face with one of the men she suspects is her aunt's murderer. It is 30 years later. Can the vendetta finally be laid to rest?
Director Eylem Kaftan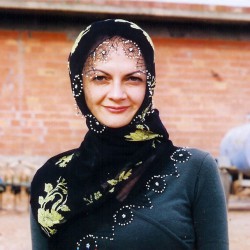 Born in Turkey, Eylem Kaftan completed a B.A. in Philosophy at Bogazici University in Istanbul and a Masters degree in Cinema at York University in 2002. At York University, she worked as a teaching assistant and wrote her thesis on the identity crisis in post-1980 Turkish cinema. Her first documentary Faultlines which investigates the aftermath of the earthquake, which hit Turkey in 1999, won Best Short Film and the Jury Prize at the Planet Indie Film Festival in Toronto.
Kaftan recently completed an one-hour documentary, co-produced with the National Film Board, about her personal journey into the honour-killing of her aunt in a small Kurdish village in Turkey. The film will soon be broadcast on Vision TV and Télé-Québec. She is also co-directing an important film about Montreal's non-status Algerians for the Quebec broadcaster Télé-Québec.
Kaftan contributed to several Canadian documentaries on social and political issues ranging from immigration, women's rights, mental illness to culture shock. Kaftan wrote, directed, edited and collaborated on several short films, among which are the award winning shorts of Turtle Productions.